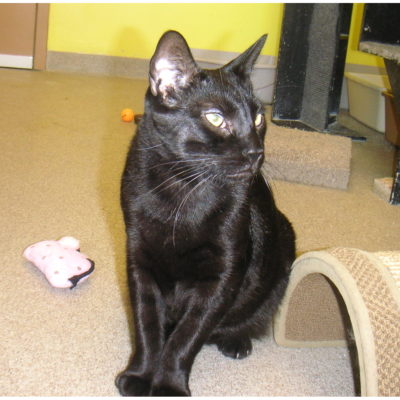 Bailey is a large black male cat. He came in with two other cats, Shadow and Basil, that we believe were his brothers. The three of them spent some time in our kitten room 8. Shadow was the most outgoing of the three and was adopted some time ago. Bailey was somewhat more shy but slowly started to come out for a little play time and a few treats. Over the months he grew to be quite a large cat. Perhaps Bailey should have been name Panther since he looks like a small black panther. He has graduated to our cat room 5 where he gets along wonderfully with the other cats. He is still a bit shy if he doesn't know you, but will come out of hiding if you wait a bit. Once he is out, he does like treats and a little attention. Come in and visit our smallest cat room and see if you can coax out our "little" panther.
Bailey has formed a special bond with Basil You should consider adopting them together.
Color

Black

Breed

Domestic Short Hair
Watch a short video about Bailey
Interested in adopting Bailey?
Learn more about how our adoption process works and what to expect when you visit.
Learn more