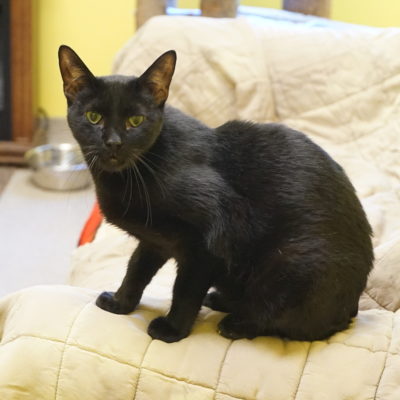 Basil is a small black male cat. He came in with two other cats, Shadow and Bailey, that we believe were his brothers. The three of them spent some time in our kitten room 8. Shadow was the most outgoing of the three and was adopted some time ago. Basil was easily the most shy of the three, and is still very shy. Unlike his big brother Bailey, Basil has remained a small cat with ears that look like he may never grow into them. Since he was so shy and small, he remained in the kitten room after Bailey graduated to an adult cat room. Then with the next kitten season in full swing Basil had to move out and into a grown cat room. He recently joined his big brother in room 5. So far he is getting along with the other cats, but is rarely seen. Perhaps he is hiding under his big brother! All the cats in his new room are very cat friendly, and perhaps they can bring Basil out a bit more. Or perhaps you can.
Basil has formed a special bond with Bailey You should consider adopting them together.
Color

Black

Breed

Domestic Short Hair

DOB

Nov. 2015
Watch a short video about Basil
Interested in adopting Basil?
Learn more about how our adoption process works and what to expect when you visit.
Learn more