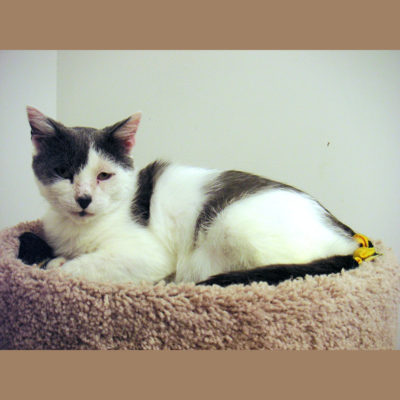 Chance has been one of our greatest transformations! Volunteers spent almost a year trying to trap this big tom cat who was dumped behind the shelter and then regularly seen eating out of the dumpster at The Buddy Foundation. When finally caught in February of 2016, he was extremely angry, aggressive and feral-like. Within a few months of oral surgery to remove a few painful teeth, Chance became one of our favorites! He's a laid-back, cool dude who has rightfully so assumed the patriarchal position in the Annex. Chance's roommates seem to respect his authority, and will look to him for approval. Be sure to bring a brush with you when you visit Chance and his Annex roommates! You'll quickly discover why they're named "The Awesome Annex Angels"!
Breed

Domestic Short Hair

Color

White and Dark Grey

Note

Special Needs - FIV Positive
Chance is one of our special buddies and deserves a loving home, but may require more love and care.
Interested in adopting Chance?
Learn more about how our adoption process works and what to expect when you visit.
Learn more