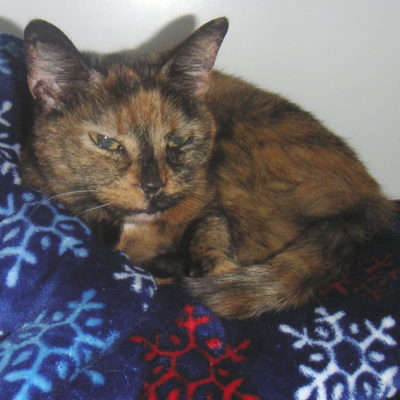 Chessie is a sweet little female tortie, but shows none of the "Tortitude" attitude. She was found as a stray wandering in someones back yard. She is extremely friendly but no one claimed her, so she came to live with us. She is currently in our senior cat room and gets along with all of her room mates. She can usually be found curled up in one of the upper cubby holes, on an adjacent shelf, or sometimes even on the back of the chair by the door. In all cases she is easily approached and loves attention. Come in and meet this sweet little lady and her friends in our senior cat room.
Color

Golden Tortie

Breed

Domestic Short Hair

Adopted

Jan 10 2019
Interested in adopting Chessie?
Learn more about how our adoption process works and what to expect when you visit.
Learn more