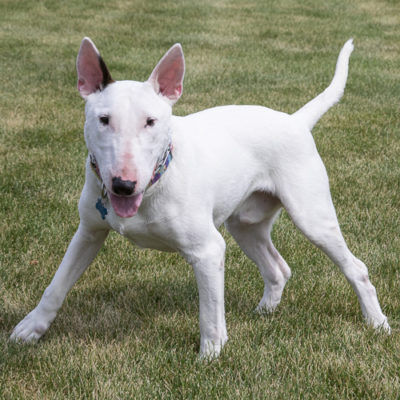 Dozer aka the Miracle Pup.
Dozer was in a home with a family enjoying life. His favorite things were to play, run and be happy. Until one day, puppy Dozer decided to eat a stuffed animal. His life was now in jeopardy. Either he be put to sleep, or a rescue needed to save him as the medical costs were extensive. The Buddy Foundation received a call to see if we could save Dozer's life. Our founder made the quick decision, YES! Do whatever needs to be done to save him. The Buddy Foundation paid $10,000 to save Dozer's life because HE WAS WORTH IT!
After the surgery Dozer was sent to a foster home to recover as Dozer had a good amount of his intestines removed. After time, Dozer became a healthy and strong pup who was able to come to the shelter to be put up for adoption.
Here is what Dozer's foster said about him;
Dozer is a sweet and high energy guy. He is potty and crate trained. Dozer will do anything for a treat (I mean who wouldn't!). He loves his long walks every day, and will listen to sit and stay. Dozer gets along with everyone and anyone, he enjoys giving kisses and saying hello.
His favorite thing to do is watch other animals whether it be dogs, cats or any wildlife, if he can't get too close to play. Dozer gets along with all dogs under supervision (he's still very young and doesn't have an off switch yet). Even though he loves to play with animals with four legs, he likes to play with his two legged friends, or even entertain himself. Dozer rarely barks, unless it is because he wants your attention or has a spout of the zoomies.
Due to Dozer's extensive surgery (as he cannot have another) he will need to be supervised with all soft items or soft toys as he will destroy them and possibly eat the fabric or stuffing. He is still learning to control himself with these things inside as well as eating things outside, but he will learn quickly.
We do have items that we suggest for treats and toys, and will be happy to donate those items to you. Come by and meet this adorably, handsome, and friendly pup today.
Breed

Bull Terrier mix

Age

1 Year

Weight

50 Lbs
Dozer is one of our special buddies and deserves a loving home, but may require more love and care.
Interested in adopting Dozer?
Learn more about how our adoption process works and what to expect when you visit.
Learn more