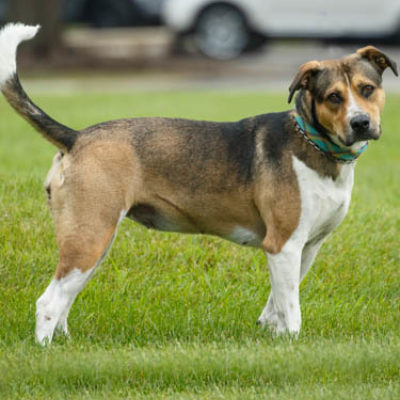 Somethings we know and love about Jackie;
She loves most people. Jackie needs a little time to get comfortable
but once she does you will know it (she smiles!!)
Aims to please. Looks for humans for confidence. A gentle
reassurance, patience and a nudge is all you need to help her
get acclimated to new things.
She loves to play with her stuffed animals. It's the best part of
her day!
Loves her belly rubbed
She does not play well with other dogs. Jackie would need to be in
an only dog house hold.
She walks well on a leash
Rarely barks, listens well
She is potty trained, she never has an accident in her kennel
As any rescue dog, please give Jackie time to get settled in your
home, as this is a brand new environment for her.
Breed

Shepherd/Beagle/Pit mix

Age

6.5 Yrs

Weight

60 Lbs
Interested in adopting Jackie?
Learn more about how our adoption process works and what to expect when you visit.
Learn more