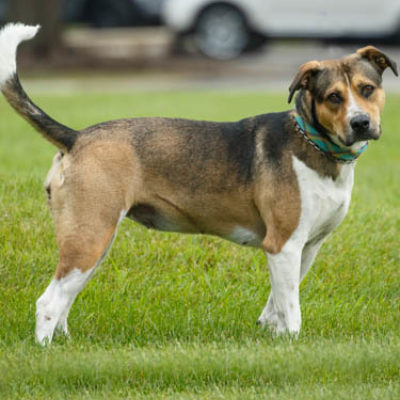 Hi! I'm Jackie and I'm 6 and half years old. My nick name should be Elvis with the smile I give my favorite people. I love when my friends come to visit me, I give a smile, wiggle, lay on my back and just enjoy the belly rubs they give me. I'm a very shy girl with new people, I could use some extra help being confident. I do best with my favorite people when I'm an only pup, as I like all the attention to myself. I also get very shy and nervous around children, I don't quite know what they are.... they jump, scream and move fast I've never seen anything like it.
I love running around in the yard and smelling new things. I could spend all day out there especially when the sun is shining on me.
I've been at The Buddy Foundation a very long time, and I don't know why. I mean I love it here and they take such good care of me, but I would love to sit on a nice fluffy couch, or have a toy I can destroy once in a while, and just be with my best friend forever you know! Won't you please take a chance on me?
Breed

Shepherd/Beagle/Pit mix

Age

6.5 Yrs

Weight

60 Lbs
Watch a short video about Jackie
Interested in adopting Jackie?
Learn more about how our adoption process works and what to expect when you visit.
Learn more