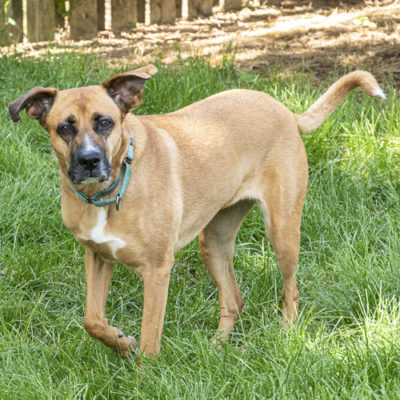 This beautiful girl is Laila, she is a 3 year old Shepherd mix. Laila was given up by her owner in Southern Illinois - when we saw this Scooby Doo look a like we had to have her.
Laila loves human attention. When you go into the kennel and sit with her, she lays her sweet head in your lap and just wants to be pet. She has a calm demeanor, and enjoys going for long walks. Laila has never met anyone she hasn't liked, she just wants to be in the mix all the time. Laila does not get along well with dogs in the kennel environment, although this may change once she is a home as she use to live with another dog.

If you're looking for your furever cuddle partner, then come fill out at application and see Laila this weekend! Ruh-Roh
Information from her foster people:

Laila is a remarkable dog. She has had no accidents in the house, she does not tear or destroy anything in the yard or the house and is very good with people. Laila does not get along with large dogs, but has few problems with small ones.

She is a pleasure to walk using a harness, but care must be taken as she likes to chase squirrels. Laila also enjoys car rides, sleeping on the couch and bagels with cream cheese (no flavor specified).

Laila is in foster care, so if you want to see her please make an appointment in advance by calling (847) 290-5806
Breed

Shepherd mix

Age

3 Yrs

Weight

70 Lbs
Watch a short video about Laila
Interested in adopting Laila?
Learn more about how our adoption process works and what to expect when you visit.
Learn more