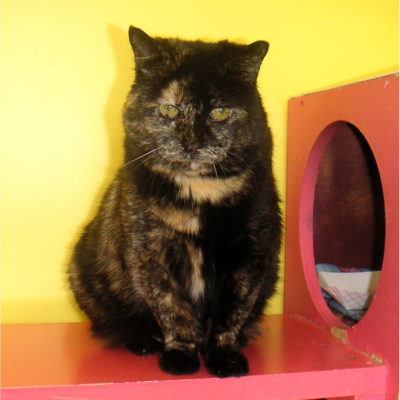 Maggie is a beautiful female tortie. She was originally an outdoor cat that was rescued by a family of volunteers. Maggie spend several months with them while they tried to socialize her. They were not having a lot of success and brought Maggie to the shelter in the hopes that additional people might help. She was not the friendliest cat in the shelter and spent many months in a pair of condos in our main cat area. You always new when she was awake because if anyone walked by her condos she would go off like a broken steam pipe. But the original family and some additional volunteers continued to work with her for almost a year. And she finally did reach the point where she calmed down and let some of her friends pet her and brush her a little. She continued to improve and was eventually moved into our cat room 3. Maggie is something of a loner and spends most of her time in one of the cubby holes. But if one of her friends comes in, especially with a tray of extra food, she may come out for a short visit. Also late in the day when everything has quieted down she can sometimes be seen on the shelves, on top of the cubby towers, and even on occasion in the window. There is a human for every cat, and we believe that for Maggie also. But it is going to take a very special and very patient individual that would be willing to spend some time getting to know her. Come in a see this beautiful girl who has come so very far.
Color

Tortie

Breed

Domestic Medium Hair

Adopted

Jun 09 2019
Interested in adopting Maggie?
Learn more about how our adoption process works and what to expect when you visit.
Learn more