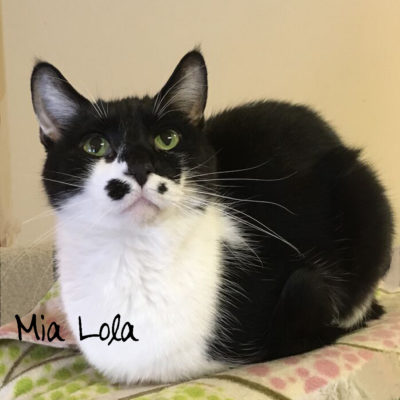 Mia-Lola is a black and white female. When she was adopted from Buddy many years ago she was named Mia. Her adopter renamed her to Lola. She was very attached to her adopter, so much so that when the lady passed away, she would have nothing to do with anyone else in the family. So she came back to us. Since we already had a Lola and we knew her history she was given the hyphenated name of Mia-Lola. She was not very happy with her new situation and it took quite a while before she let anyone get close to her. She has improved considerably and is now free to roam room 1. She is not outright aggressive to the other cats, but does appreciate her space. As for people she is still quite selective about who she will curl up next to for some attention. Come in and meet Mia-Lola. Perhaps you will be one of the lucky ones, and Mia-Lola will adopt you!
Color

Black and White

Breed

Domestic Medium Hair
Interested in adopting Mia-Lola?
Learn more about how our adoption process works and what to expect when you visit.
Learn more