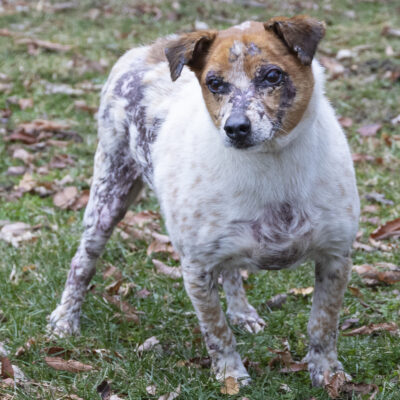 Hi there, I'm Owen! I'm a Jack Russell Terrier mix, I'm about 5 years old and I weigh about 25 pounds. I wish I could tell you what happened to me, but what I can tell you is that it hasn't made me any less of a sweetheart! My fur is all patchy because of a skin condition, but the doctors tell me that it's not contagious. I have a trick knee, so I don't like to go on long walks (and I really don't like that "snow" stuff). I'm also undergoing heartworm treatment so I need to stay calm - but that's not hard for me because I'm a very relaxed guy. I'm really thankful for the love and help I've gotten from my friends here at Buddy, I know that what I really need is a forever home. Please contact The Buddy Foundation and come and meet me!

No other pets in the household and no small children (Heartworm)

Breed

Jack Russell mix

Age

~5 Years

Weight

~25 Lbs
Interested in adopting Owen?
Learn more about how our adoption process works and what to expect when you visit.
Learn more