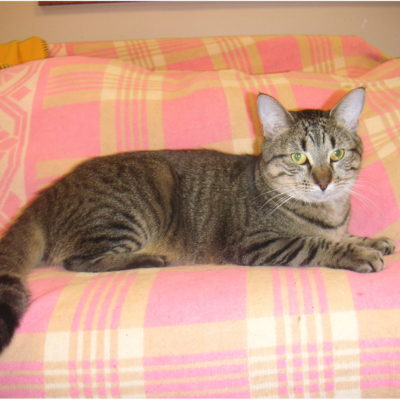 Pauly is a friendly brown male tabby. He and his brothers were found under a deck and given to one of the veterinary hospitals that work with Buddy. They couldn't keep them there indefinitely so they came to the shelter. None of them were friendly upon arrival, but Pauly was easily the most social of the three. After several months Pauly became quite friendly with the volunteers and was moved from the condos in the main cat area into cat room 1. Pauly is getting along well with the other cats and even tries to become best friends with a couple of them. He is quite friendly with most visitors. Pauly will frequently sit next to people on the couch and enjoy the attention, but he will let you know when he is done with a gentle nip. Come in and meet Pauly and his friends in room 1.
Color

Brown Tabby

Breed

Domestic Short Hair
Interested in adopting Pauly?
Learn more about how our adoption process works and what to expect when you visit.
Learn more