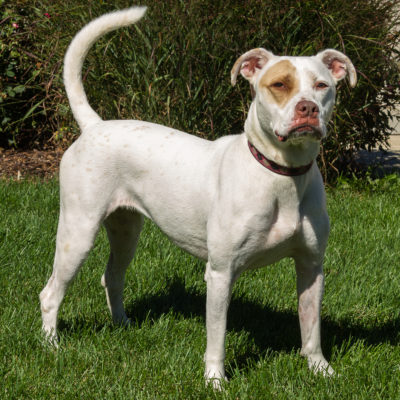 Peachtree is an easy going couch potato, but can have her moment of the zoomies. She loves affection, treats and belly rubs.  Peachtree enjoys playing with her adoptable friends Max & Skipper. When they all get together it is a puppy party! 
Peach is a wonderful pet.  She doesn't chew on things that aren't hers, she is potty trained, and only barks when the doorbell rings. Peachtree will be the first one to greet you at the door with her tail wagging.   She isn't very active and would do fine with short walks, or even a yard to lounge in.
Peachtree
would do best with a thoughtful owner that will consider she is loyal
to you and any outside visitors should be introduced slowly as she gets
anxious.
As any rescue dog, please give Peachtree time to settle in, as this is a brand new environment for her.
Breed

Staffordshire Terrier/Boxer mix

Age

3.5 years

Weight

50 lbs.
Peachtree is one of our special buddies and deserves a loving home, but may require more love and care.
Interested in adopting Peachtree?
Learn more about how our adoption process works and what to expect when you visit.
Learn more