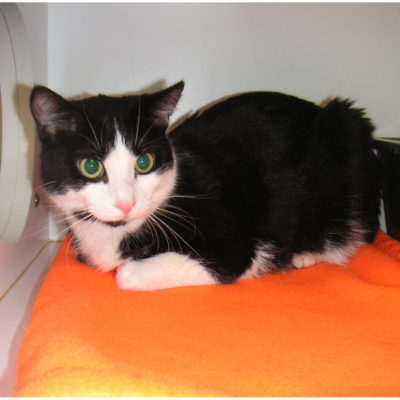 Pancho is a black and white male. He was found as a stray in someone's back yard and brought to the shelter. At first he wasn't too happy about being here and didn't much like attention. One of the more outgoing volunteers worked with Pancho and he started to become more friendly. As a result Pancho reacts a little differently than most cats when approached. Rather than gently reaching out to let him sniff your hand, he responds better to reaching right up to him and petting him behind the ears and head. If you take the more cautious route, he will probably run away. Pancho is currently in our cat room 2 where he seems to be getting along with all of the other cats. He can usually be found in one of the cat apartments or on one of the couches watching the birds. Come in a give this guy a little scratch behind the ears. Perhaps you can become his Cicso Kid.
Color

Black and White

Breed

Domestic Short Hair
Interested in adopting Pancho?
Learn more about how our adoption process works and what to expect when you visit.
Learn more