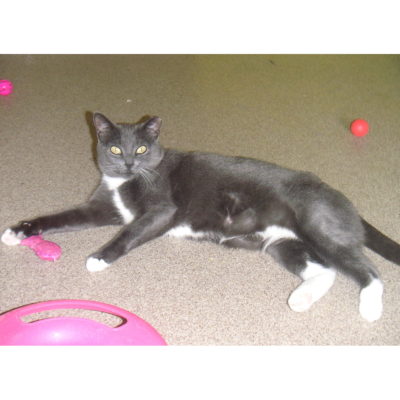 Posey is a small gray female with white paws and a white chest. She came to us from someone who brought her in thinking she was her cat that had escaped a few days earlier. Posey was friendly enought, but she wasn't the lady's missing cat. So Posey came to live with us. She seemed to get along with other cats and moved into our cat room 5. She spent several weeks hiding behind the couch and under the chair in the room. Then when a couple of our older kittens, now cats, moved into the room she changed her outlook. Now she is out and being quite friendly both to the other cats and to everyone who enters her room. She will sit in one of the cat trees, rub up against your legs, or climb up on the couch next to you to be brushed. She is really a very sweet and affectionate cat. Come in and visit with her. Perhaps she is the cat you are missing.

Color

Gray and white

Breed

Domestic Short Hair

Adopted

Nov 24 2017
Interested in adopting Posey?
Learn more about how our adoption process works and what to expect when you visit.
Learn more