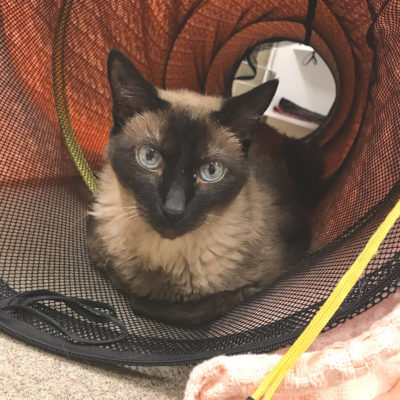 Sadie was adopted many years ago as a kitten. Their son moved back home with a dog and grandchildren. Sadie wasn't too happy with the situation, especially with the dog. So the adopters returned her stating that they never really liked the cat that much. Sadie became very angry and depressed. She didn't much like the other cats, nor did she like people. She would hiss, growl and bite at anyone who tried to befriend her. She has improved a little and several of the volunteers are starting to make some progress with her. A few can pet her a little and sometimes she will eat a treat from their hand. But Sadie still has a ways to go before she really starts to forgive people.

Color

Chocolate Siamese

Breed

Siamese

Note

Does not like other cats.
Interested in adopting Sadie?
Learn more about how our adoption process works and what to expect when you visit.
Learn more