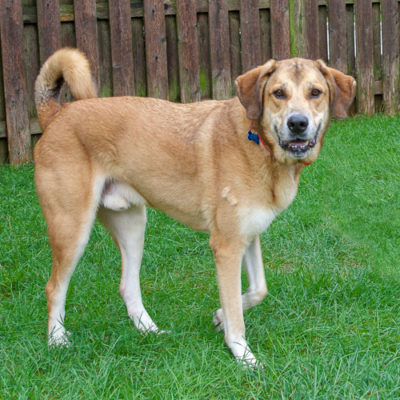 Hello! My name is Sasuka and I am a 7 year old Great Pyrenees mix. I was left in a home that was to be condemned with two of my siblings, with occasional food and water. My life was off to a ruff start, until I was rescued by The Buddy Foundation. Due to my history & breed, I want to protect the people closest to me, and always keep them safe.
I enjoy long walks on the grass (and just so you know, I walk like a true gentleman), sitting on the couch, and just being with my best friend(s). Since I was in a home with other dogs, I wouldn't mind having a female friend to chase after, cuddle with and watch the Secret Life of Pets.
Since, I was kept with only my siblings for quite some time, I get a little nervous around things I've never seen before. Like this boxy looking thing on wheels that honks- you want me to jump into that thing? What about these little human looking things that run and scream, they freak me out – no thank you!
I can't wait to meet you, and spending the rest of my days by your side. - Sasuka
Breed

Great Pyrenees mix

Age

7 Years

Weight

80 Lbs
Interested in adopting Sasuka?
Learn more about how our adoption process works and what to expect when you visit.
Learn more