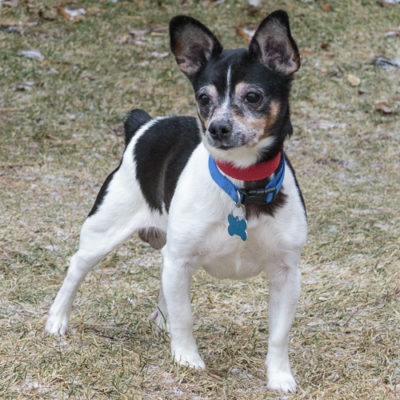 Tiny is a Rat Terrier mix who is eleven going on two! This little man came to us because his owner relocated and could not take him with them.
This little cutie has a calm and playful side. He loves to play with his stuffed toys and go for walks. When his favorite volunteer's come to see him he is jumping up and down in kennel so excited to see them. He enjoys snuggling in a nice warm lap, or a bed with some cozy blankets. Tiny is a typical male, he would rather spend time with the ladies than the guys!
Due to his small size and being with the same person for 11 years, he is on the shy side when you first meet him. It takes a little bit of time for him to warm up and trust you. But don't let this discourage you, because once he learns he can trust you, he will be your best friend for the rest of his loving life.
Come meet Tiny today!
Breed

Rat Terrier mix

Age

11 Years

Weight

14 Lbs
Interested in adopting Tiny?
Learn more about how our adoption process works and what to expect when you visit.
Learn more