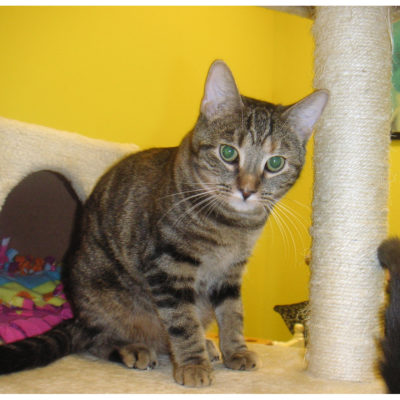 Tootie is a small female brown tabby. She arrived with her badly injured almost feral mother and what appeared to be at least two litters of kittens that mom was protecting. Mom didn't make it, but she got her little ones off to a good start. Several of Tootie's litter mates have been adopted, but Tootie is still with us in kitten room 8. She was and still is quiet and a little shy, but doesn't mind being petted. She can be encouraged to come out to play and even take treats from the back of your hand. She gets along with everyone and with all of the other cats in with her. If someone could spend a little more time with her, Tootie could easily become a very loving best friend. Could that someone be you?
Color

Brown Tabby

Breed

Domestic Short Hair

Adopted

Jan 13 2018
Interested in adopting Tootie?
Learn more about how our adoption process works and what to expect when you visit.
Learn more